Donald Trump Calls Nancy Pelosi's Bluff – Demands Impeachment Vote If She Wants His White House Documents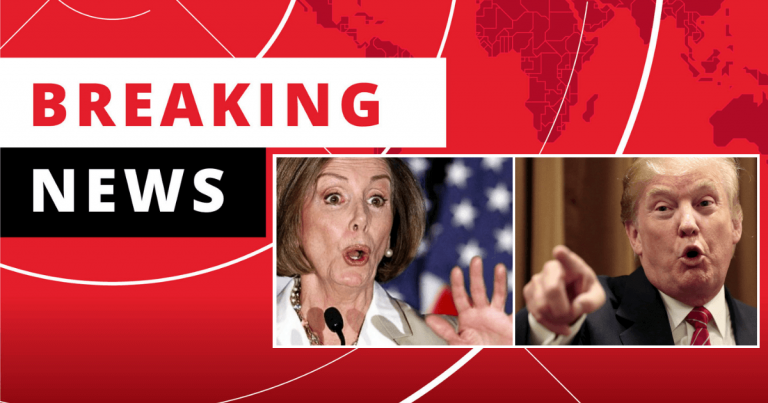 Nancy thought Donald wouldn't dare – now it's getting real!
President Trump is fed up with Pelosi's sham of an impeachment inquiry.
The Democrats have been dragging people into hearings. They have been making big boasts on live TV,
They even accuse Trump of many things Democrats seem to be caught doing again and again.
Yet, Pelosi has pushed forward with this impeachment without actual approval from the entire House.
Trump and his staff are calling it a sham because the Speaker does not have the guts to bring her impeachment push to the rest of Congress.
Perhaps because she is only doing this for political reasons, to hurt Trump's 2020 chances.
Now the president is calling her bluff, demanding she put up or shut up.
From Axios:
The White House is planning to send Speaker Nancy Pelosi a letter as soon as Friday arguing that President Trump and his team can ignore lawmakers' demands until she holds a full House vote formally approving an impeachment inquiry…

Trump wants to force House Democrats in vulnerable races to be on the record if they favor pursuing impeachment, these sources tell us.
According to reports, Trump is preparing to send a letter to Nancy Pelosi demanding a full vote from the House on this impeachment inquiry.
If not, he will refuse any demands from Democrats for documents or information over their sham of a push.
This is pretty important. Many swing-state Democrats are hiding behind Pelosi. They don't want to go on record that they endorse the impeachment.
They know that if they were to vote on this inquiry, they would lose in 2020 hands down.
That's why they haven't voted on articles of impeachment or even for this inquiry.
Pelosi just wants to drag this out for as long as she can as a smear tactic against Trump. If she brought it to a vote in the House, it might fail.
Then her scheme would be over pretty quickly.
Trump is making Pelosi and the rest of the impeachment Democrats to actually back up all their claims.
If they truly think Trump should be impeached, they at least should have the courage to make their case before the entire House and country.
But something tells me Pelosi will never do that. She will never take that kind of a stand.
So, Trump is going to take it for her.
SHARE if you agree with Trump: this impeachment is a sham!
Source: Axios