After Trump Slams Door On Pelosi, Her Live TV Breakdown Could End Her Career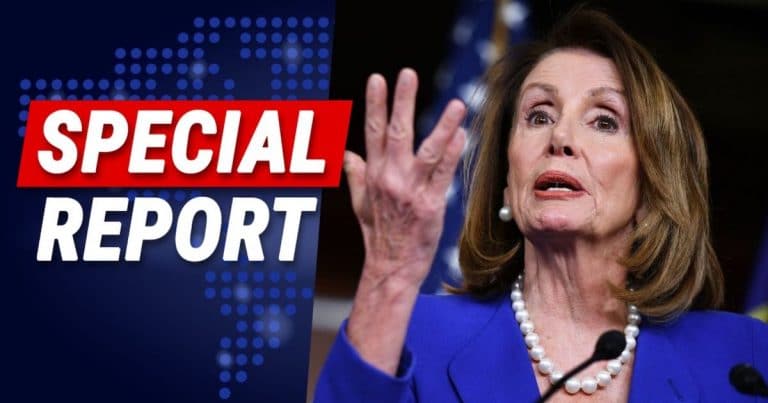 Wow. This might be the most embarrassing stumble yet.
What is wrong with Speaker Nancy Pelosi? Looks like Trump short-circuited her!
He tried to sit down and talk with Pelosi; he tried to have a meaningful discussion about fixing America's crumbling infrastructure.
Instead, moments before the meeting, Pelosi goes on TV and accuses Trump of a cover-up. And POTUS would have none of it.
He reasonably walked out and told reporters waiting outside that Democrats "could not legislate and investigate simultaneously."
So, what does Speaker Pelosi do immediately he "slammed the door" on her?
She goes on Live TV and has another one of her embarrassing, blithering breakdowns.
Check it out:
"PELOSI STAMMERS THROUGH NEWS CONFERENCE" pic.twitter.com/1OyCyqRTuk

— Donald J. Trump (@realDonaldTrump) May 24, 2019
I mean, this is just sad. Ironically, the Speaker of the House can't even speak.
Maybe we should return to the previous question, but look at it in another light: what is wrong with Nancy Pelosi?
Seriously, is it something physical? Is she ailing? Does she require medical attention?
I'm not saying this to be mean or vindictive; it really does appear as if the woman has a problem that should be addressed.
Every time she gets in front of a camera without a teleprompter or someone helping her, she stutters and stumbles terribly.
This is a duly elected representative of the people, and the people should be concerned, right?
At the very least, she should consider stepping down while she tends to herself. That's my recommendation.
SHARE to tell everyone Pelosi isn't fit to be Speaker!
Source: YouTube