President Trump And Pence Stand In the Rain – Make Unscheduled Stop To Respect Two Fallen Soldiers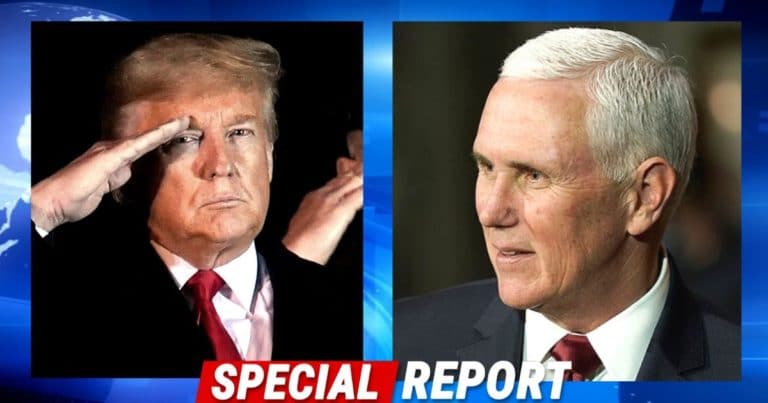 Donald Trump just held a very successful rally in New Hampshire with thousands turning out to support him.
But it was what happened after the rally that made me swell with pride…
See, the media often portrays Trump as a villain of sorts; a cold-hearted, money-hungry individual who only cares about the wealthy.
However, we have plenty of evidence to the contrary. And to me, he really is one of the kindest, most generous Presidents in American history.
Case in point, via The Daily Wire:
After a raucous campaign rally in New Hampshire, President Trump on Monday took an unannounced trip to Dover Air Force Base to take part in a somber 'dignified transfer ceremony' for two 28-year-old soldiers killed in Afghanistan.
How amazing is that?
The President made a special trip to honor two of our nation's fallen heroes. It's just such a beautiful gesture!
Trump and Vice President Mike Pence held a brief prayer inside a C-17 transport plane, then stood at attention in the rain as the two caskets were carried out.
The heroes' names were: Sgt. 1st Class Antonio R. Rodriguez, of Las Cruces, New Mexico, and Sgt. 1st Class Javier J. Gutierrez, of San Antonio, Texas,
Sadly, both passed away on Saturday while fighting for our country in Nangarhar Province.
But wait, there's more — other members of the Trump family attended as well, including daughter Ivanka and her husband Jared Kushner.
THIS is why so many patriotic citizens love their President! Trump even changed his schedule a bit to make this visit happen.
As National Security Adviser Robert O'Brien said:
These were fallen heroes and we were close by and the president wrapped his rally early so he could come.
Trump could've done whatever he wanted when the rally was over. But he decided to pay his respects to two of America's finest.
Also, the White House confirmed that this was the first time since 2009 that both the President and Vice President have attended a "dignified transfer" together.
How's that make you feel? Proud and grateful, right?
Maybe this is why Trump is so well loved among so many. Maybe it's because he shows how much he loves this country every single day.
SHARE if you love Donald Trump's great appreciation for our military!
Source: The Daily Wire