Trump Made 5 Predictions for a Biden Presidency – And the Former President Nailed All Five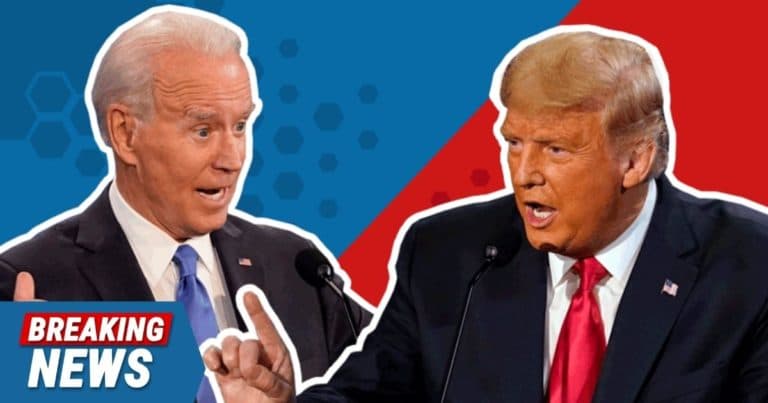 What's Happening:
We are one and a half years into Biden's "presidency." So, how is he doing? Eh… not great.
RealClearPolitics has his approval, averaged across numerous polls. To date, it's the worse ever.
From Twitter:
Another day, another fresh all-time low for Biden job approval on RCP, under 38 for the first time. pic.twitter.com/EIJMMNucHb

— Phil Kerpen (@kerpen) June 29, 2022
Another day, another fresh all-time low for Biden job approval on RCP, under 38 for the first time.
As we look over the many failures brought on by this administration, we can't help but look back on what Trump said. And, big surprise, five of Trump's predictions about Biden have come true.
From Daily Caller:
Former President Donald Trump's predictions during his 2020 presidential campaign about what would happen to the U.S. if Joe Biden took office have been eerily correct…

Trump accurately warned voters that Biden's policies would attack free speech and the Second Amendment, cause illegal immigrants to flood the southern border, and consumers would suffer high gas prices and a failing economy.
Trump made (at least) five predictions about what Biden would do during the 2020 campaign. And already those predictions have come true.
Trump warned that Biden would push a radical left agenda against the Second Amendment. FactCheck.org claimed he was wrong and taking clips out of context.
But not long after Biden entered office, he called for strong gun control from Congress. And he made the claim that the Second Amendment was "not absolute."
Trump said Biden would create an open border situation, letting in countless border jumpers. He said Biden would "abolish" immigration enforcement.
The AP claimed Trump's claims were "false in almost every detail." Today? Over 2.9 million migrants illegally crossed the border since Biden took office.
And those are just the numbers the CBP is willing to report.
Trump also warned Biden would go to war on our fossil fuels and that gas prices would skyrocket (even Biden promised to end oil during one debate). The left claimed Trump "vastly oversimplified" Biden's agenda.
Um… have you filled up your gas tank lately? Have you paid your electricity bill? Yeah, Trump was absolutely right.
Trump continued, saying Biden's economic policies would lead to "disaster." He specifically said it would lead to a recession or depression.
Perhaps Biden's biggest failure has been the rampant inflation that many experts warn will end with a recession. Some say we are already in it.
Key Takeaways:
Biden's approval has reached a new low on RealClearPolitics, at 38%.
Predictions made by Trump have come true, including high gas prices and inflation.
Media outlets at the time claimed Trump was wrong, often being wrong themselves by large margins.
Source: Twitter, Daily Caller