Trump Team Breaks Record 10 Times Over – One Million People Just Signed Up For Donald's Tulsa Rally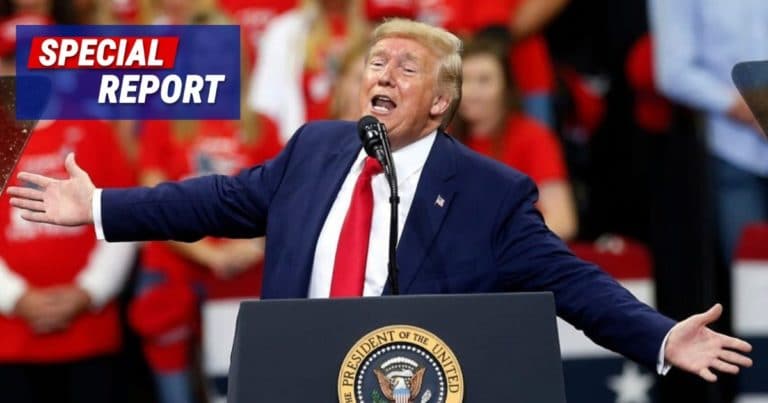 What's Happening:
The COVID-19-related lockdowns resulted in a halt of campaign events. Both parties had to cancel rallies, town halls, and other large gatherings.
But as the summer heats up, it appears the worst is behind us. All fifty states have reopened, at one level or another. The economy appears to be rebounding, according to the May jobs report. President Trump himself announced he was resuming his famous rallies. The first will be held in Tulsa, OK.
Soon after his campaign announced the event, the requests for tickets came pouring in. And Trump's campaign manager revealed how many have signed up:
Over 1M ticket requests for the @realDonaldTrump #MAGA Rally in Tulsa on Saturday.

Before entering each guest will get: Temperature check, Hand sanitizer, Mask

There will be precautions for the heat and bottled water as well.
Why It's Important:
The mainstream media was quick to pivot on large gatherings when liberals protested alongside Black Lives Matter. Democrat health officials apparently encouraged these events but condemned Trump for resuming his campaign rallies.
Some might have expected this to dampen interest in Trump's Tulsa rally. On the contrary, a considerable number of people are requesting tickets. While the vast majority will not be able to attend (given space limitations), this gives the Trump campaign valuable voter data.
Each person that signs up provides their information. Team Trump will be able to communicate with them all the way to November. With over 1 million people signing up, Trump has an invaluable base from which to gather data. It would make any political campaign jealous, most certainly the Democrats.
This large number also casts doubts on recent polls released by left-leaning outlets. If Trump is allegedly losing to Biden by 14 points, why are so many eager to attend his first rally? It seems that enthusiasm for Trump's re-election has only grown since the COVID lockdowns.
Key Takeaways:
Trump announced his first rally since the pandemic.
Campaign manager Brad Parscale announced 1 million people requested tickets for the event.
The record-breaking number of requests suggests enthusiasm for Trump's campaign is growing.
Source: Twitter