Trump's 2024 Run Sparks Eyebrow-Raising Biden Reply – Joe Must Be Shaking in His Boots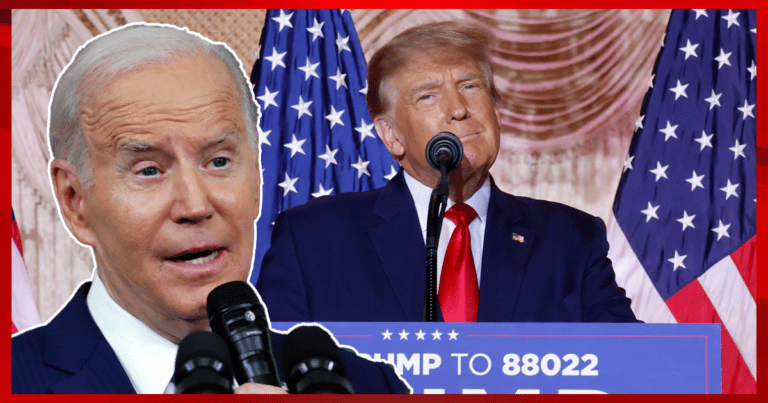 What's Happening:
Donald Trump fulfilled a promise he made to his millions of supporters this week by announcing his 2024 presidential campaign. His speech at Mar-A-Largo was measured and focused, touting his achievements in office and hammering the current administration's failures.
Plenty of people will be watching Trump closely. And many have voiced their opinions of this big news. Joe Biden was overseas engaged in the G20 summit. Reporters asked him what he thought of Trump's announcement. And his two-word answer was telling.
From Daily Caller:
President Joe Biden responded to former President Donald Trump's presidential campaign announcement with two words when prompted by a reporter on the sidelines of the G20 summit.

Biden and French President Emmanuel Macron were asked early Wednesday morning local time if they had a reaction to Trump announcing his 2024 presidential bid.

"Not really," Biden said before turning away.
Really, Joe? That's the best you can say? Something tells me Biden had such a weak response because his handlers hadn't written him a real one yet. Biden has long avoided talking to the public without cheat cards or teleprompters.
His reaction to this big news suggests he has no idea what to do. Probably because he has no idea what he's doing. Biden was propped up by the DNC in 2020 and has been doing its bidding ever since.
Yet he has repeatedly said recently that he's all-in for a 2024 re-election campaign. So… why no response to someone he could be running against? No reaction? Really? Does Joe have any thoughts in his head at all?
If Biden was really determined to run for re-election, you'd think he at least could come up with a good dig at Trump. But this non-response suggests Biden is terrified and doesn't know what to say.
Joe only "won" in 2020 because he hid behind COVID. But he won't have COVID to lean on in 2024 (although he'll certainly need something to lean on by then, being as old as he is). Biden will be running on his failures and Trump will be focusing on his wins.
Biden will have a very hard time running against anyone, especially someone as dogged as Trump.
And already, Biden's stumbling.
Key Takeaways:
Joe Biden said "not really," when asked for a response to Trump's re-election news.
Biden has vowed to run in 2024, but could not provide an appropriate response.
Biden has long relied on handlers to write his responses, even for interviews.
Source: Daily Caller