After Trump Plans July 4th Mt. Rushmore Event – Democrats Accuse Him Of "Glorifying White Supremacy," Then Quickly Delete Tweet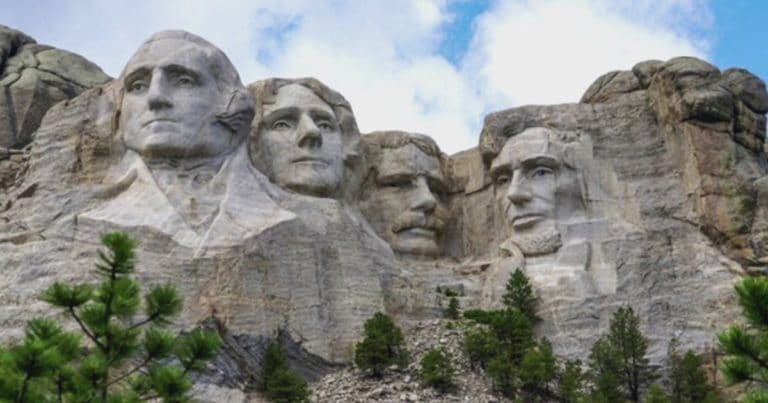 Donald Trump has planned a July 4th event at the iconic American monument, Mount Rushmore.
There will be a big fireworks display over the heads of the four great U.S. Presidents: George Washington, Thomas Jefferson, Theodore Roosevelt and Abraham Lincoln.
But apparently, Democrats don't like the idea.
The Democratic National Committee tossed up a tweet accusing Trump of "white supremacy."
It isn't the first time the President has been accused of having racist tendencies.
But the tweet got a lot of backlash and was since deleted, though a Twitter use caught it: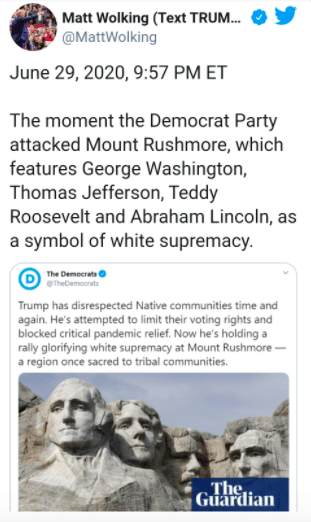 The moment the Democrat Party attacked Mount Rushmore … as a symbol of white supremacy.
Democrats initially cited an article from The Guardian, calling out Trump for "disrespecting Native communities."
And in the article, the author accused Trump of "glorifying white supremacy at Mount Rushmore."
However, critics quickly slammed the DNC's tweet, including GOP pollster Logan Dobson:
Would be curious to hear @TheDemocrats explain what part of shooting off fireworks at Mt. Rushmore for the 4th of July 'glorifies white supremacy'.

The fireworks? Mt. Rushmore itself? The 4th of July?
Others worried about the possible snowball effect of this backlash. In other words, the question "where does it end?" is making the rounds.
But it's interesting that the DNC deleted the tweet in response.
We'll have to see how this impact the 2020 presidential election…
Key Takeaways:
The DNC tweeted that Trump was "glorifying white supremacy" with his July 4th Mt. Rushmore event.
After tremendous backlash, the DNC removed the tweet.
Critics wonder at the snowball effect, and where the complaints and accusations end.
Source: Fox News