Trump Slams 'Book-Seller' Bolton – Says "If I listened to him, we would be in World War Six by now"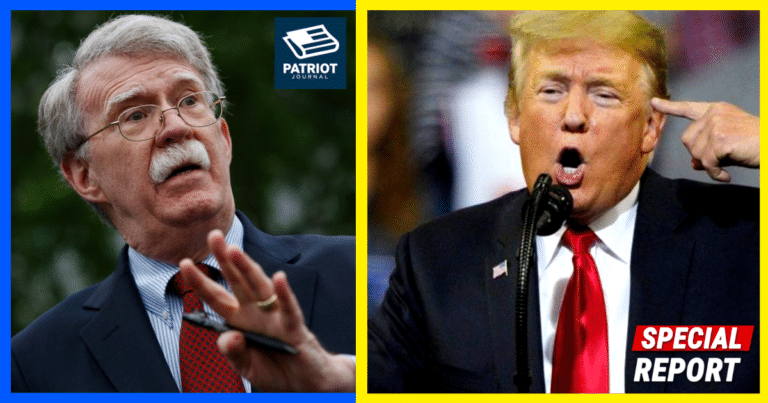 The media's been talking a lot about John Bolton.
The former National Security Advisor (who was fired by Trump) has been in the news about an upcoming book.
According to reports, Bolton makes a big claim about Trump and want he wanted from Ukraine and it has sparked a renewed interest to drag witnesses into the Senate impeachment trial.
Many suggest the "leak" was just to boost Bolton's book sales. After all, nothing sells a book faster than controversy!
But President Trump is having none of it. He just went all-in on Twitter, putting Bolton in his place.
From Twitter:
For a guy who couldn't get approved for the Ambassador to the U.N. years ago, couldn't get approved for anything since, "begged" me for a non Senate approved job, which I gave him despite many saying "Don't do it, sir," takes the job, mistakenly says "Libyan Model" on T.V., and..

…many more mistakes of judgement, gets fired because frankly, if I listened to him, we would be in World War Six by now, and goes out and IMMEDIATELY writes a nasty & untrue book. All Classified National Security. Who would do this?
Woah. Donald Trump unloaded on the former National Security Advisor.
He set the record straight, discussing Bolton's history of trying to get work. He the Senate refused to approve Bolton for various jobs, including at the U.N.
Trump says Bolton "begged" him for a job. Many people told Trump not to do it.
The president went on to list some of Bolton's "mistakes in judgment," which we can assume led to his firing.
Trump blasts Bolton by saying, if he listened to him, we'd be in "World War Six" by now.
That's pretty brutal.
It doesn't seem the president was at all satisfied by Bolton's performance. But it's Bolton that appears to be accusing Trump of wrongdoing in his new book.
The president accuses Bolton of writing a "nasty & untrue book." On top of that, he suggests it might contain classified information.
Is Bolton trying to milk all this attention to sell a book, even if what he reveals in the book jeopardizes our national security?
Thankfully, it seems Trump didn't follow Bolton's advice and engage us in endless wars overseas. Since Trump's entered office, I feel we've seen a de-escalation of conflict.
He knows when to strike and when not to. Above all else, he's putting America's safety first. Just look at his response to Iran.
Can we say that about Bolton and the impeachment Democrats?
Source: Twitter