Trump Makes Big Move Against DeSantis – He's Headed To 1 Red State with Surprise Guests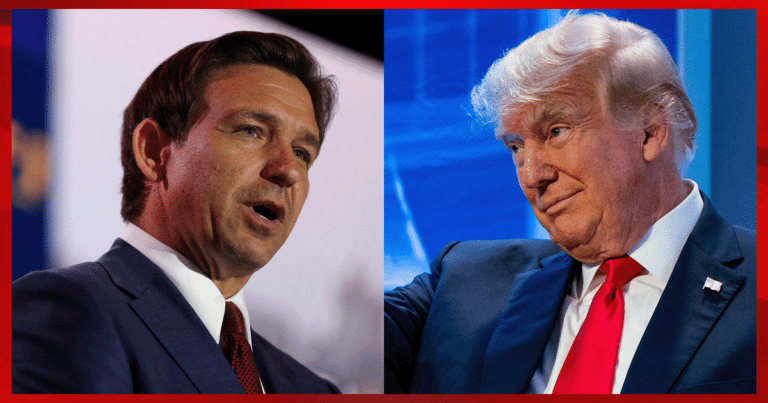 What's Happening:
Thanks to the relentless indictments from Democrats, Donald Trump is surging in GOP primary polls. Outrage that Biden and his cohorts indicted Trump three times (with a fourth on the way) seems to have put Trump way ahead of his closest Republican rivals.
Ron DeSantis looked to be the only candidate that had a chance to overtake the former president. But recent weeks have seen his campaign lose momentum. He had to cut costs and revamp his entire staff. Trump, however, continues to stay ahead of him. And now, he is about to defy the Florida governor by attending a big event… with some familiar faces in tow.
From The Post Millennial:
Nine Florida Republicans who endorsed Donald Trump for GOP leader over their own governor will join the former president when he pays a visit to the Iowa State Fair in Des Moines on Saturday…

According to the Des Moines Register, Trump's campaign confirmed that Florida Republican Reps. Gus Bilirakis, Byron Donalds, Matt Gaetz, Carlos Gimenez, Brian Mast, Cory Mills, Anna Paulina Luna, Greg Steube, and Mike Waltz will be making the trek over to Iowa to spend the day alongside the former president.
The Iowa State Fair will be a huge event for Republican candidates. They will have a chance to interact with numerous voters from one of the first states to go to the polls. And Trump will be arriving with nine Florida Republicans, who are backing him over DeSantis.
It must be noted that these Republicans are all members of Congress, not folks who worked with DeSantis in his administration. Despite that, it will be a painful sight for the governor to see several Florida lawmakers hobnobbing with Donald, not himself.
DeSantis is slated to attend the event as well–it is unclear if he will cross paths with his rival.
Trump was heavily critical of DeSantis before he entered the race. Early on, Trump continue his onslaught as DeSantis gained momentum. In recent weeks, Trump has appeared to lay off Ron, as the polling continues to break in the former president's favor.
But there is still a long road before Republicans go to the polls. Can DeSantis gain an upper hand against Trump? Will these seemingly endless indictments from radical Democrats finally derail the Trump train?
I guess we'll have to wait and find out.
Key Takeaways:
Trump is attending the Iowa State Fair with nine Florida Republicans.
These congressmen have endorsed Trump over Florida Gov. Ron DeSantis.
The governor will also be attending the big Iowan event.
Source: The Post Millennial