Trump Supporters Ambush Biden on His Vacation – Suffering Americans Show Up to Boo the President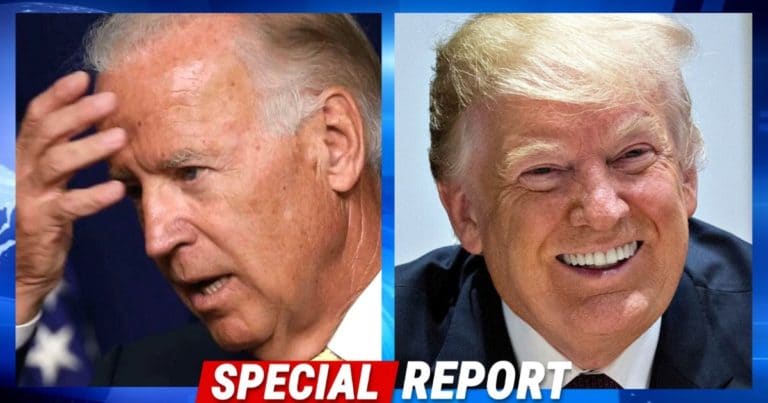 What's Happening:
As America suffers growing inflation and a recession, Joe Biden went on vacation. Just as his party rams a massive tax bill through Congress, old Joe gets a little R&R in South Carolina.
Even his crooked son, Hunter, got away—seen flying on Air Force One with the rest of the fam.
But Joe had a little bit of difficulty trying to unwind after cheating the country. Americans were on hand to let him know how they felt.
From Newsmax:
President Joe Biden and his family were booed by Trump supporters Wednesday when arriving in South Carolina for vacation, according to media reports…

"We, The People Will Not Be Divided…America 1st!!!" one person wearing a Project Veritas t-shirt wrote on a sign as the Biden family drove past in their motorcade. "Sleepy Joe, a.k.a. 'The Big Guy' (10%) a.k.a. The Worst POTUS Ever!!!"
Something tells me Biden would have received a similar greeting no matter where he went. Unless, of course, he went to Los Angeles, where he would have been greeted by an army of homeless.
A group of locals booed Joe Biden when he arrived in South Carolina for his week-long vacation.
One person held up a poster that called Bident the worst "POTUS" ever. It also read, "Thanks 4 Record Inflation, Global Instability, Empowering Cartels, & So Many More Crises!!!"
Joe Biden has been suffering from horrible approval ratings. Since the summer of last year, his approval has been tanking.
The administration has done nothing to remedy these ratings, pushing for worse and worse policy. Inflation has grown out of control as numerous crises rocked the country.
Despite all this, Biden continues to try to gaslight the country by pretending like everything's fine.
Um, when you let Putin invade Ukraine, give up Afghanistan to the Taliban, and sit back as China ramps up its military… everything's not fine.
All Biden is hellbent on doing is passing more and more spending bills that will overtax Americans, while funneling cash to his "green" buddies.
We won't be surprised if we see more crowds like this, wherever he goes.
Key Takeaways:
A group of locals booed Joe Biden when he arrived for vacation in South Carolina.
Biden and his family took a week-long vacation, after tanking the U.S. economy.
The Biden administration is crumbling under inflation, recession, and low approval.
Source: Newsmax