Donald Trump Just Got a Surprise Warning – It Comes Immediately After DeSantis Scores a Big Win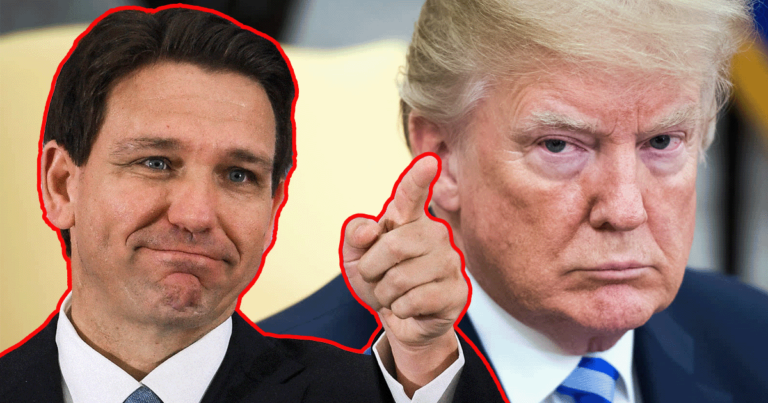 What's Happening:
We are getting closer to what could be a major shakeup in the 2024 Election. While Donald Trump is the current GOP frontrunner, things could change quickly, when Ron DeSantis announces his campaign. Rumors abound that he will make an announcement next month. But some big names aren't waiting that long to get behind the successful Florida governor.
From Fox News:
Gov. Ron DeSantis, R-Fla., landed an endorsement from a Republican mega-donor who previously supported former President Trump.

Hal Lambert, who founded Point Bridge Capital – also known as "MAGA ETF," said he supports DeSantis over Trump for his conservative record and ability to win.
Hal Lambert, a longtime Trump mega-donor, is endorsing Ron DeSantis for 2024. He said that he plans "to do a lot" to help DeSantis win. He is pointing to DeSantis's conservative record as governor of Florida and his ability to win as reasons for switching campaigns.
This could be the first of a sea change among Republicans. Many in the party believe Trump did good, but it is time to move on. Many believe that all the bad blood and slander thrown at Trump by the media will be enough to keep him from beating Joe Biden. Including a top senator.
From Breitbart:
Senator Bill Cassidy (R-LA) said Sunday on CNN's "State of the Union" that former President Donald Trump cannot win a general presidential election…

"… So I think the president's kind of high-profile endorsement of those candidates actually hurt those candidates. At least in the general election. So if past is prologue, that means President Trump is going to have a hard time in the swing states, which means he cannot win a general election."
Long-serving Republican Sen. Bill Cassidy recently said Donald Trump cannot win the general election in 2024. He pointed to Trump's poor performance in the 2022 midterm election. Republicans were poised to sweep Congress in a red wave.
But all of Trump's endorsed candidates in swing states lost big. Cassidy claims that had other Republican candidates ended up on the general ballot, they would have won. He seems to believe that Trump cannot win in swing states, where independent voters matter so much more.
Does that mean DeSantis has a better chance than Trump? It's unclear if Trump can win back the voters he lost in 2020. He can claim fraud all he wants, but 2024 is a new election. Biden's bad leadership might not be enough for people to trust Trump again.
Does this mean Republican voters need to back DeSantis if they want Joe Biden gone? I guess that's up to them to decide.
Key Takeaways:
Republican mega-donor is leaving Trump to back Ron DeSantis.
Bill Cassidy said that Donald Trump cannot win a general election.
This comes as Ron DeSantis prepares a presidential campaign.