Tucker Carlson Unveils New Twitter Bio – And the Liberal Twitterati Are Furious with Him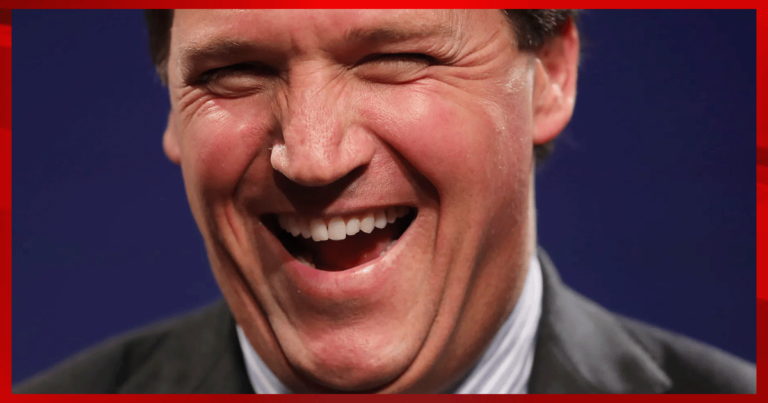 What's Happening:
Well, it's safe to say that few people are triggering the left more these days than Tucker Carlson. He seems to be besting even Donald Trump in that category. The left will never forgive the Fox News host for releasing the J6 footage, shattering the liberal media's narrative of the day's events.
But if you thought he was done getting the "woke" party flipping their wigs, think again. It seems the newsman is fond of mocking liberals who use their Twitter bios to virtue signal. That little space above their feed is prime real estate for trumpeting your causes and leftist allegiances. So, Tucker couldn't help but beat them at their own game.
From Twitter:
Tucker's new Twitter bio… it's amazing. Even better than the last one:
Tucker's new Twitter bio… it's amazing. Even better than the last one: pic.twitter.com/STgIPLwloL

— Henry Rodgers (@henryrodgersdc) March 14, 2023
It seems Carlson topped himself with his recent update to his Twitter bio. After taking down Pelosi and her J6 goons, he went on to outrage the left with this little paragraph. It read, "Non-binary climate change activist of color. Visionary tech founder. CNBC market analyst. Informal Zelensky advisor." Followed by two transgender emoji flags.
If you didn't already know, Tucker isn't any of these things. Yet this is exactly the kind of nonsense posted on left-wing Twitter accounts. Leftists are so proud of their race and gender (or non-gender, as it may be). They love to crow on and on about how they are "activists" or even "visionaries," even when they've done nothing of note.
What's really sickening is that there is a large segment of our society that takes this kind of thing seriously! You can post these kinds of empty, warrantless claims on your Twitter bio and the left will believe you. You can even be a conservative news host on the biggest network in America… and a few liberals will kind this is true.
Most liberals were probably foaming at the mouth when they learned of this. Tucker has a knack for turning the left's stupidity on its head. But, truth be told, even a Musk-owned Twitter wouldn't appreciate this kind of satire.
UPDATE:
It is likely that Carlson would have been banned from the platform over this, being accused of "misrepresenting" himself. So, he quickly changed it back. His current bio reads as follows:
"Emmy-award-winning broadcast journalist, graduate of Harvard College & Yale Law School. Frequent visitor to the Aspen Inst. Fully vaccinated. She/Hers. 🇺🇦"
Brilliant.
Key Takeaways:
Tucker Carlson trolled the left by posting a mocking Twitter bio.
The news host criticized the left's virtue signaling by calling himself a "non-binary climate change activist of color."
The conservative figure is known for taking jabs at the "woke" left.
Source: Twitter