Tulsi Gabbard Turns On Her Democrat Party – She Joins With Republican On Congress Bill To Stop Men From Playing Women Sports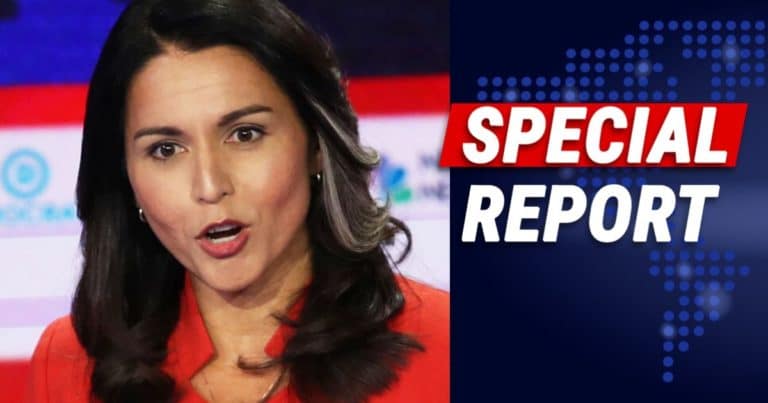 What's Happening:
You know things are going badly for a party when one of its own presidential candidates turn on a major agenda. In fact, one Democrat is going out of her way to support something Republicans have been calling for, for years.
Tulsi Gabbard might be a Democrat (for now), but on many issues, she is not afraid to challenge her party. She even went toe-to-toe with Hillary Clinton herself, after Clinton made wild claims about Gabbard.
Perhaps she wants to curry favor with conservatives. Or perhaps Gabbard honestly feels this way about this issue.
Regardless, she is now challenging an ongoing cultural debate with a new bill she introduced in Congress.
From Daily Wire:
Gabbard introduced the bipartisan bill, dubbed the "Protect Women's Sports Act," with Rep. Markwayne Mullin (R-OK) on Thursday. The bill seeks to protect "the sex-based intention of Title IX protections by reaffirming the biological sex-based distinctions between men and women in athletics." The bill would prevent organizations which allow biological males to compete against females from receiving federal funding.
Gabbard's bill aims to protect women's sports by denying biological males from competing against females. Groups that do will lose federal funding, which would largely affect schools and colleges.
In recent years, many Americans have been shocked to see biologicals males—one who consider themselves females—compete with athletes born women.
Regardless of your views on the issue, it's undeniable that these athletes have an edge over biologically female athletes.
The controversy has exploded because many activist groups claim it's an equality issue. But many disagree.
Gabbard is wisely focusing on the fact that letting biological males compete with biological females undermines women's rights.
The bill is aimed at protecting women's sports rather than attacking transgender athletes.
Many have suggested separate competitions should be held for those athletes who transition or identity as another gender. This bill might play a role in creating this kind of category, in order to ensure female athletes' sports are protected.
Either way, the progressive left cannot be happy about this bill. And they're certainly can't be happy to see a prominent Democrat co-author it.
Which is why we like it so much.
Key Takeaways:
Democrat Tulsi Gabbard introduced a bill to deny biological males from competing with biological females.
The bill aims to protect women's sports by withdrawing federal funding from groups that do not comply.
In recent years, many have grown outraged that biological men have qualified to compete against women.
Source: Daily Wire