After TV Host Mocks Melania And Barron – The First Lady Races To Her Son's Defense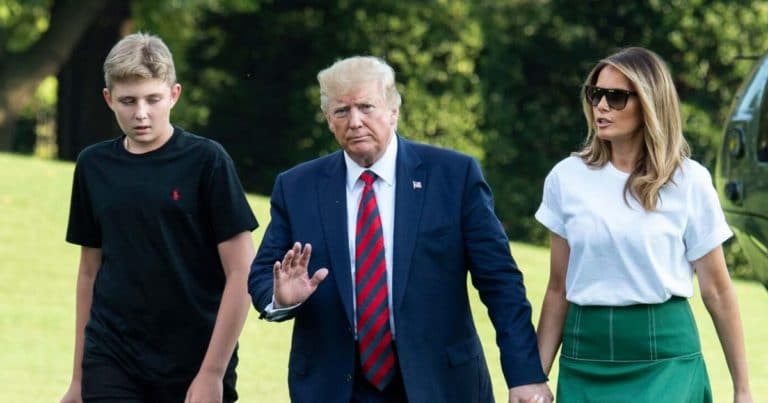 Like all mothers, Mrs. Trump doesn't take kindly to people who mock her family.
Over the Father's Day weekend, parents and children around the country spent some happy hours together. It's a time to celebrate parenthood.
However, Food Network host John Henson decided to take a job at the First Family.
The 52-year-old Henson posted a tweet (now removed) on Father's day, which said:
I hope Barron gets to spend today with whoever his dad is.
Perhaps it could be viewed as a simple joke, but the family on Capitol Hill wasn't laughing.
Melania's spokeswoman, Stephanie Grisham, was quick to respond.
Here's the statement she provided to The Daily Caller:
Sadly we continue to see inappropriate and insensitive comments about the President's son [Barron Trump].

As with every other Administration, a minor child should be off limits and allowed to grow up with no judgment or hate from strangers and the media.
This isn't the first time Melania Trump has faced criticism or mockery, either.
And some of the insults from Hollywood have been particularly outlandish.
For example, actor Peter Fonda tweeted in June 2018 that "we should rip Barron Trump from his mother's arms and put him in a cage with pedophiles."
That was egregious enough for Melania to notify the Secret Service, in fact, as Grisham later confirmed.
Maybe it is best to simply leave minors out of the political sphere, even if we can make the "it's only a joke" argument.
Key Takeaways:
A spokeswoman for Melania Trump has responded to Food Network host John Henson's tweet, where he mocked Barron and Donald Trump.
Spokeswoman Stephanie Grisham called it "inappropriate and insensitive."
This isn't the first – or worst – incident of insults or mockery thrown at the First Family.
Source: The Daily Caller