Biden Blasted by Surprise from Twitter Founder – He Just Made a Startling 2024 Prediction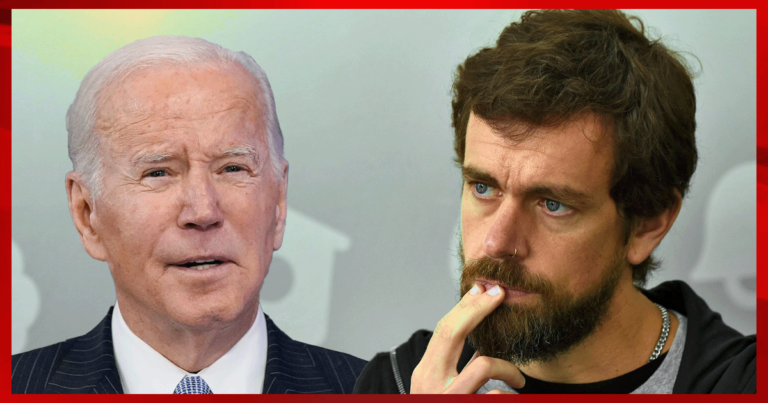 What's Happening:
Joe Biden announced his candidacy for the 2024 Presidential Election. Old man Joe vowed to "finish the job." For most Americans, that means finishing destroying the border, sending our money away, releasing criminals from prison, and hiring drag queens to teach our children.
You'd think more Democrats would be lining up to replace this far-left extremist. Yet, it appears the liberal establishment is forcing the party to accept Biden as their nominee. I guess he's too valuable a puppet to lose. But not everyone on the left is marching to Sleepy Joe's tune. Because the former CEO and co-founder of Twitter, Jack Dorsey, is defying the DNC.
From Breitbart:
Jack Dorsey, the former CEO of Twitter has endorsed Robert F. Kennedy Jr. for president in 2024…

Commenting on a recent interview in which the Democrat candidate argued he can beat both incumbent Joe Biden and Republican frontrunner Donald Trump, Dorsey said "he can and will."

When asked if this was an endorsement or simply a prediction, Dorsey replied it was both.

In other replies, Dorsey gave a withering opinion of the DNC, calling them "more irrelevant by the day."
He can and will https://t.co/zrKLc2BKhz

— jack (@jack) June 4, 2023
True but they seem to be more irrelevant by the day.

— jack (@jack) June 4, 2023
Wow. Former Twitter CEO and one of the men who helped create the social network is endorsing Robert F. Kennedy Jr. for president. Jack Dorsey commented on Kennedy's chances at beating Joe Biden and even Donald Trump. Dorsey stated that RFK "can and will" beat them.
Someone commented that the Democrats "would never allow" Robert Kennedy to replace incumbent Joe Biden. Dorsey torched the organization responsible for Democrat functions saying the DNC seems "to be more irrelevant by the day."
Dorsey appears to be going directly against the wishes of top Democrat officials, party leaders, and their allies in the liberal media. Despite Joe Biden's massive failures over the last three years, the liberal establishment refuses to look somewhere else for a candidate.
That could be because Joe's been a good little soldier, signing whatever idiotic orders and bills they put in front of him. Biden has bowed to both the radical left and corporate lobbyists. The last group he's actually given a thought to has been the American people.
But do Democrats really think Biden has a shot at re-election? Maybe they assume Donald Trump will lose against him a second time? Do they really think that Biden has a shot, without COVID to lean on?
If I were a Democrat (scary thought), I'd want someone–anyone–other than Joe Biden on the 2024 ticket. Robert F. Kennedy Jr. looks to be the left's savior. But only Dorsey seems to understand that.
Pretty ironic.
Key Takeaways:
Former Twitter CEO endorsed Robert F. Kennedy Jr. for president.
Dorsey said that Kennedy "can and will" beat Joe Biden and Donald Trump.
Biden has the support of the Democratic Party, despite his massive failures.
Source: Breitbart