After Unemployment Numbers Rock Markets, Trump Responds: This Isn't A V-Shape, It's "A Rocket Ship"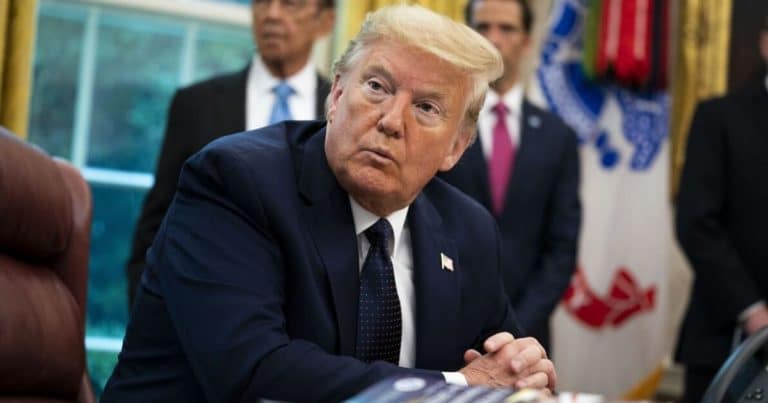 Critical unemployment numbers came in for the month of May. And they were not at all what experts were predicting… not even close.
They were so stunning, President Trump changed his claim that the recovery post-COVID-19 will be "V-shaped."
Instead of losing 8 million jobs last month, Trump's economy added 2.5 million.
From The Epoch Times:
"We're opening and we're opening with a bang and we've been talking about the V," Trump said, referring to a V-shaped economic recovery, meaning the economy suffers a sharp but brief period of economic decline before rebounding.

"This is better than a V. This is a rocket ship," he said.
President Trump said that the economic recovery won't be "V-shaped," but more like a rocket ship. After two months of decline, thanks to the lockdowns, the economy took off in May as states reopened.
Economic experts thought the decline would continue; they were very wrong.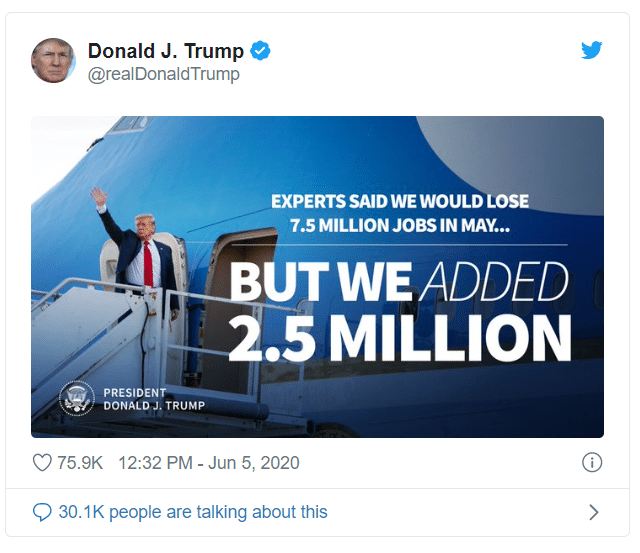 And now President Trump is predicting even bigger things to come:
Considering May's economic report, President Trump is predicting the "greatest comeback in American history."
He said it will keep going in the coming months, with the Fall and Winter being historic periods.
Our Take:
This is pretty huge news, folks. Everyone—and I mean everyone­—expected the virus decline to continue into May.
Instead, unemployment dropped and 2.5 million people went back to work. Keep in mind, when we add around 200,000 jobs, that's considered an amazing month.
But 2.5 million jobs!? That is more than historic. That's the kind of thing that brings a landslide re-election.
Now, perhaps, you can begin to understand why leftists are rioting in the streets? They can't stand to see America come back from one of the worst periods in our history.
Trump also said these amazing numbers happened before major states like New York and California fully reopened. Imagine what is going to happen in June and July?
Should Biden even bother running?
Oh, the media and the left are trying to drag Trump down as much as they can. They blamed the virus on him. They blame the riots on him.
But under Trump, the country is recovering from a totally unexpected and devastating economic collapse. And it only took a month for things to turn around!
Why would any American with a working brain hand this over to Joe Biden?
SHARE if you're ready for the greatest comeback in American history.
Source: The Epoch Times, YouTube, Twitter