After VA Governor Threatens 2nd Amendment Sanctuaries – Virginia's Largest City Turns On Him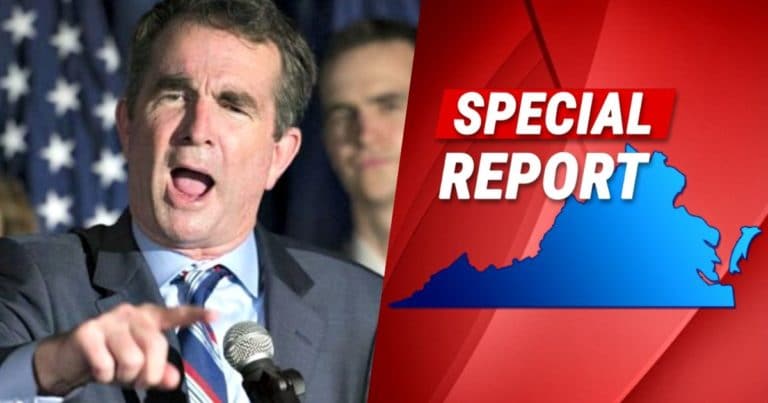 It looks like Virginia Democrats just shot themselves in the foot.
Thanks to the nearby D.C. swamp, they took over the state's government. Because of this liberal majority, they are pushing the most extreme gun control laws in the country.
The new policies will empower the government to confiscate guns without due process, among many other radical new rules.
Their governor, "Black-face" Ralph Northam has even threatened to come down hard on any counties that defy his new tyrannical laws.
Just recently Northam said, "Localities could face consequences if law enforcement officers don't enforce gun laws."
Well, that seemed to spark a greater reaction than the Democrat had anticipated.
From WTKR:
City council has voted to pass a resolution making Virginia Beach a Second Amendment "constitutional" city.

The resolution was adopted with a vote of 6-4. Mayor Dyer, Vice Mayor Wood, Council Member Moss, Abbott, Berlucchi and Wilson all voted yes…

A Second Amendment sanctuary… means the local governments would not use local resources to prosecute anti-gun laws.
Boom! The largest city in Virginia has just voted to throw Northam's un-American laws back in his face.
They voted to make the city a Second Amendment sanctuary. I love who they're calling the city a "constitutional city," meaning they are protecting our rights under the Constitution.
By using that term, they are exposing the reality of Northam and his Democrats' agenda. They are attacking the very Constitution and our Second Amendment rights with these radical gun control laws.
The reaction to his new laws has been epic and unprecedented. Nearly the entire state has come out in rebellion to these gun control laws. It seems like everyone in Virginia is against them.
Makes you wonder how Democrats took control of the government in the first place, huh? (Perhaps they should have had a recount?)
The tide is growing against Virginia's Democrat-controlled government. And they've only been in power a short time!
Don't be surprised to see these laws fought in court—and perhaps brought all the way to the Supreme Court.
Blackface Northam signaled he's not interested in protecting the rights of his residents—the only thing government officials should be doing.
Now that yet another piece of Virginia is against him, maybe he'll wake up.
SHARE to support all the 2nd Amendment Sanctuaries in Virginia – and the country!