After Virginia Governor Tries To Remove Statue – A Judge Just Dropped His Gavel, Blocking His Order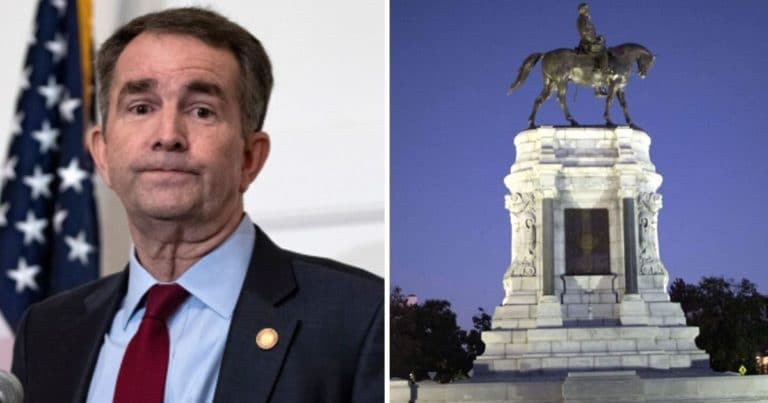 What's Happening:
Riots sparked by "peaceful protests" for George Floyd reached the state of Virginia. Protesters used the unrest as an opportunity to demand the removal of Confederate monuments, some which have stood in the state for over 100 years.
The Democratic governor of Virginia, Ralph Northam, obeyed the demands of protesters by announcing he would remove a statue of Robert E. Lee in Richmond. But his plans just came to a temporary halt, due to a judge's order.
Judge Bradley B. Cavedo, according to multiple reports, issued a 10-day injunction halting Northam's order in the face of a lawsuit, contending that the state had agreed to protect the statue when it annexed the land.

In a court filing obtained by The Washington Post, an attorney for plaintiff William Gregory argues that Virginia agreed to "faithfully guard it and affectionately protect it," referring to the statue when the state annexed the land from Henrico County in 1890.
Why It's Important:
In the face of far-left activists' demands, it appears state and local Democrat leaders are making major changes to their cities. Demands for the removal of Confederate monuments have existed for years, but it appears the liberal governor of Virginia is using the current climate as excuse to act on it.
Critics frequently question the validity of removing statues and monuments from our country, claiming it erodes our history. Democrats have ignored such concerns, seemingly more concerned with appealing to the ever-left-leaning wing of their party.
But according to this lawsuit, the governor might not have the authority to remove this statue of Robert E. Lee. The state vowed to "guard" and "protect it." A judge might eventually rule that removing the statue violates this agreement.
Key Takeaways:
The governor of Virginia bowed to the far-left by announcing the removal of a Confederate statue.
A judge blocked the move, in order to proceed with a lawsuit against the state.
The case argues the state of Virginia is obligated to protect the monument, as per the original agreement.
Source: The Hill