After Warren Shows Off $52T Medicare Plan – Nancy Pelosi Sends Dem Frontrunner Scrambling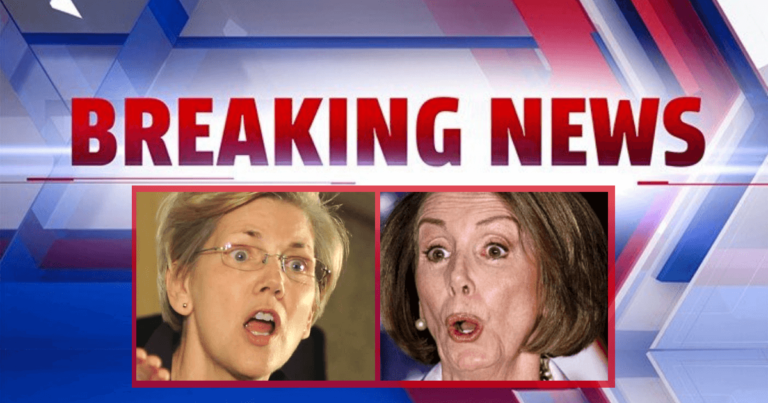 Elizabeth made a big mistake – and Nancy's making her feel it!
For a long time, the new Democratic 2020 frontrunner Elizabeth Warren has been promising "Medicare for All." Yet she's refused to explain how she's pay for this government-run socialist program.
We all know how, already. We the people will pay for her socialist plan.
But today, it was revealed on Fox News that her plan will cost a staggering $52 trillion. She continues to claim that she will not tax the middle class to pay for that huge sum. Sure, we're buying that.
She also said that to pay for at least $9 trillion of it (a drop in the bucket), she will hit employees.
So it will just get passed on to the little guy.
And she admitted Medicare for All may cut up to 2 million jobs.
So endless layoffs, shrinking paychecks, all for the sake of her (subpar) "free" healthcare.
But through all this noise, what does the leader of the Democrat Party, Speaker Pelosi, think? Elizabeth, you may want to close your ears.
From The Hill:
Speaker Nancy Pelosi (D-Calif.) said Friday that she is "not a big fan" of "Medicare for All"…

Pelosi has previously declined to embrace a push among progressive lawmakers for the health care proposal and has raised doubts about the idea, though her latest remarks are more critical than statements earlier this year, when she said she was "agnostic."
Ouch! What is Warren going to say when the leading liberal in the House says she's not a big fan?
It would take the support of Nancy and her allies in the House (assuming they are still around by then) to back a Medicare for All plan. Assuming, of course, Warren or Sanders get elected.
But if Pelosi ain't on board, I doubt you're going to get her sniveling minions like Nadler or Schiff on board.
Pelosi's chief concern over this "free" healthcare plan, of course, is the cost. Even a big liberal spender like her can't swallow such massive expenses.
House Democrats would be the most vulnerable is taxes shot up to pay for this kind of thing. Angry Americans would vote them out first. Why would Pelosi bother supporting something like this when it's political suicide?
But this is Nancy Pelosi, though, flip-flopper extraordinaire. She was against impeachment, but now is all for it. She cowered to the far-left in the House before, so who knows?
SHARE if you want Trump, not the Democrats' socialism!