WATCH: Bill Nye Literally Sets Globe On Fire – Proves His Career Is OVER With Bizarre Claim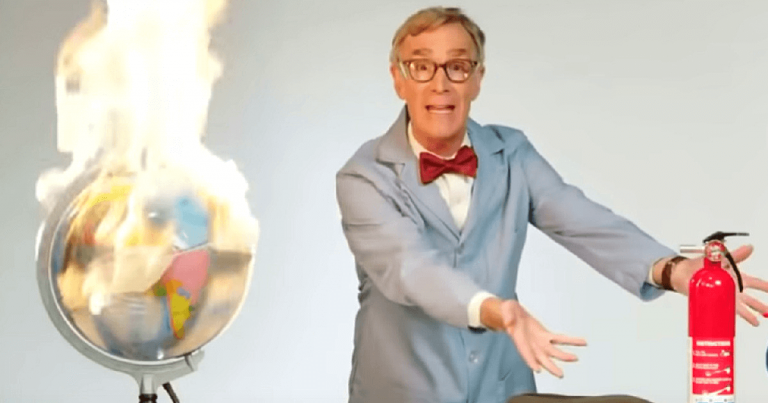 I think we just saw our Science Guy lose his mind on camera.
Many of you might remember Bill Nye "The Science Guy." Years ago, he was loved by children for his show that taught them science.
Those glory days are long over. Now the aged actor is desperate to shove global warming down everyone's throats.
I guess people really aren't listening. So, he's really gone off the deep end in his latest claim in this video.
Warning: Language.
From The Conservative Opinion:
Breitbart reported that appearing Sunday on HBO's Last Week Tonight with John Oliver, Bill Nye launched into an profanity-laden and hyperbolic rant about climate change, exclaiming "the planet's on f*****g fire!"

Dang, Bill. Why don't you calm down, just for a second? Your profanity-laced rant makes you sound like an unhinged, climate alarmist.
Oh, wait… I guess that's because you are an unhinged climate alarmist.
In his latest video, shot for John Oliver's propaganda show, Bill Nye sets a globe on fire. He then proceeds to rant about global warming, claiming our world is on fire.
He curses out his audience, saying, "Grow the f**k up. You're not children anymore. I didn't mind explaining photosynthesis to you when you were 12. But your adults now, and this is an actual crisis, got it? Safety glasses off, motherf***ers."
Wow. What a great way to win over people to your argument, Bill. Cursing at people, just because they don't want to join in with your destructive, socialist agenda doesn't work.
Bill, like all other climate alarmists, want you panicked that the world will get so hot, we'll all die in a few years.
Of course, their only solution involves destroying our economy. These left-wing socialists want to erase our liberties by destroying capitalism and introducing strict environmental rules.
Obama did it all the time.
It's never been about ending "global warming," it's been about imposing a toxic, destructive, and corrupt system onto our society.
One that will get rid of personal wealth and property ownership, individual liberties, and democracy.
You can drop as many f-bombs as you want, Bill. We're not buying your scheme.
SHARE if you think Bill Nye has lost his mind!
Source: The Conservative Opinion