Gov. Whitmer Might Be In Boiling Hot Water – Attorney Says "Criminal Charges" For Reckless Endangerment Are Possible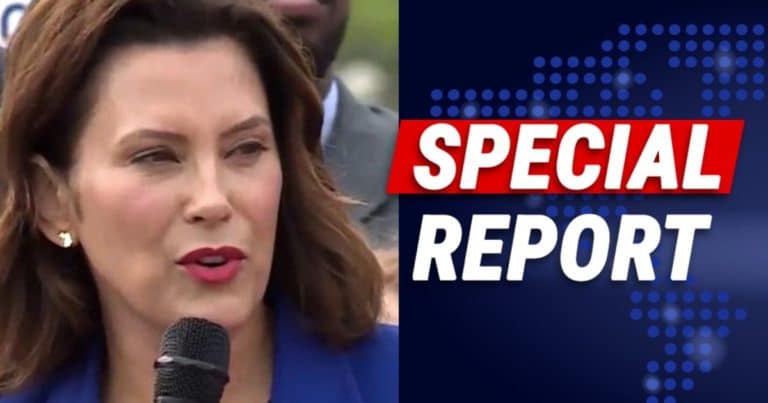 All around the country, certain state leaders are coming under heavy scrutiny for how they handled the pandemic.
New York Gov. Andrew Cuomo is maybe the highest-profile of these cases, but other governors are also facing a ton of tough questions.
That goes double for Michigan Gov. Gretchen Whitmer.
Whitmer presided over one of the strictest lockdown states in the union in 2020, and she got plenty of heat for her draconian decisions.
Now, though, she's hit with a much more serious accusation.
It comes from a local state attorney, who believes Whitmer might actually face criminal charges.
Via The Daily Caller:
A local Michigan prosecutor has indicated that criminal charges could be forthcoming against Michigan Democrat Governor Gretchen Whitmer over her handling of the coronavirus pandemic as it relates to people who died in nursing homes.
New Macomb County Prosecutor Peter Lucido laid it all out for ABC Detroit:
He's urging Michigan residents who lost loved ones in nursing homes to demand information from those facilities.
He says he can't access that info due to HIPAA laws, but that shouldn't stop grieving citizens.
Lucido says they can file complaints with the police, and that could lead to big trouble for Gov. Whitmer:
If we find there's been willful neglect of office if we find there's been reckless endangerment of a person's life by bringing them in then we would move forward with charges against the Governor.

Of course, we would. Nobody's above the law in this state.
As you might expect, this could result in a huge influx of complaints.
For that reason, Lucido plans to meet with Macomb County Police to instruct them on processing and verifying the complaints.
They're calling it a "Blue-Ribbon Committee" designed specifically to investigate these cases.
As for Whitmer, she clearly isn't happy with this move, and her office issued a strongly worded statement denouncing the idea.
Here's part of that statement:
Mr. Lucido's comments are shameful political attacks based in neither fact nor reality.

Even his former colleague, Republican Sen. Ed McBroom, has said they 'have not seen any evidence or testimony that says that a nursing home was forced to take someone against their will.'
That won't be enough to quell the concerns around the state, though.
Michigan GOP member Ted Goodman claims that "Whitmer and her administration continue to refuse to answer questions" regarding the nursing home issue.
Basically, Republicans are asking for transparency here, and Whitmer isn't giving it to them.
That's their contention, anyway. But as we emerge from the pandemic, it's likely that more state leaders will face similarly difficult questions.
Key Takeaways:
Michigan Gov. Gretchen Whitmer could face serious charges regarding nursing homes during the epidemic.
A local attorney urges residents who lost loved ones in nursing homes to file complaints with the police.
Whitmer's office denies any wrongdoing, but Republicans in the state are demanding answers and transparency.
Source: The Daily Wire