Trump's Team Of Women Gives Donald A New Nickname, Sends Democrats Scrambling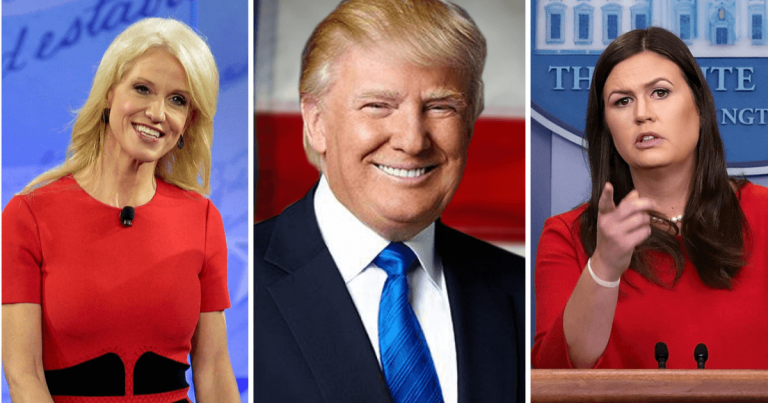 Four women who are very close to the President are setting the liberal record straight, and shattering their false sexist narrative once and for all.
Before he decided to run for president, Trump was often praised for his treatment of women in the workforce.
In 1980, Trump hired a woman to oversee the construction of Trump Tower, when there were very few women in construction. She was ultimately the first woman to ever lead a skyscraper project.
And most recently, he hired more women to fill cabinet positions than any Republican president in history.
What Trump ultimately cares about is hiring the best person for the job, regardless of what their gender is.
The women who work closest with the president know this to be true, and often defend the president against those ridiculous sexist claims.
In fact, these women are actually calling Trump the exact opposite of a sexist: a feminist!
From The Daily Caller:
Is President Donald Trump a feminist?

…Trump has done some amazing things for women while serving as President of the United States.  Adult female unemployment hit 3.7 percent in July, the lowest rate in decades.

To hear more about how Trump really feels about women, we sat down with some of the most powerful women in Trump's circle — White House press secretary Sarah Sanders, Republican National Committee chairwoman Ronna McDaniel, presidential adviser Kellyanne Conway, and White House director of strategic communications Mercedes Schlapp.
During the Daily Caller's video interview, Sanders, McDaniel, Conway and Schlapp praise the president for all he's done to empowering them.
"He's been very unfairly attacked for not being a champion of women," Sanders stated.
McDaniel echoed Sanders statements, and chastised the mainstream media for downplaying Trump's advancement of women.
"The media loves to treat Trump as if he's anti-woman or sexist, and that fits their narrative…

…because they want to divide women away from this president and not recognize all the accomplishments that his policies have put in place for families and women across this country," McDaniel stated.
Trump is someone who understands the value of women, which is why so many of the women on his staff have stood by him.
The president would likely say he's not a feminist, and that he just expects those who work for him to produce results, whether they are male or female.
But either way, the "sexist" label obviously doesn't fit, right?
Source: The Daily Caller