After Youngkin Grabs The Lead In VA Race – Donald Trump Goes All In, Day Before He Puts On Tele-Rally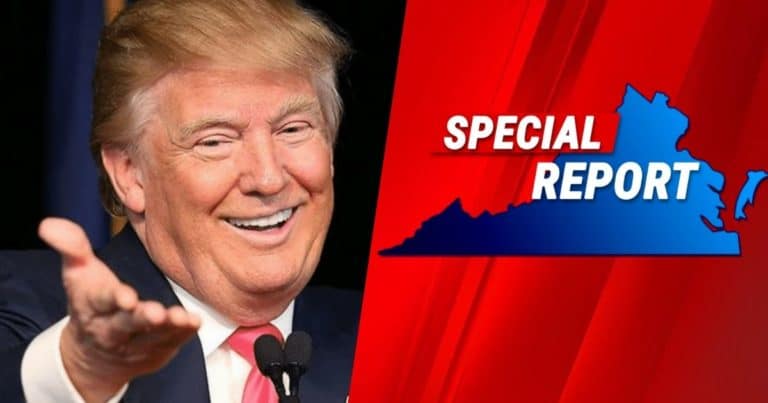 What's Happening:
Nobody expected the race for Virginia governor to be this close. But despite being a largely liberal state, Democrats are sweating bullets.
Their candidate has shot himself in the foot again and again, and his own president is dragging him down. In the meantime, the Republican candidate, Glenn Youngkin, has been winning over many by standing up for parents and freedom.
The latest polls show that the Republican is leading. From Breitbart:
Republican candidate Glenn Youngkin leads Democrat Terry McAuliffe one day before the Virginia gubernatorial election on Tuesday, according to FiveThirtyEight's polling average.
That is significant, considering McAuliffe was leading by at least 8 points just a few months ago.
Now, Donald Trump is throwing his weight behind this race. From Just the News:
Referring to Youngkin, Trump said, "I think he should win. I mean, he should win. I'll be honest, my base has to turn out. If my base turns out, he's gonna win. And I hope they turn out. I really want them to turn out."
Donald Trump is supporting Republican Glenn Youngkin in the close race for Virginia governor. He said that if his base goes out and votes, Youngkin should win. The 45th president expressed his desire for Republicans to vote saying, "I really want them to turn out."
Some outlets reveal that Trump will be holding a "tele-rally" for Youngkin on the night before the election. The event is aimed at connecting with conservatives in the state and urging them to get out and vote. Much of Virginia is populated with patriotic, conservative Americans that have grown sick of the D.C. swamp's toxic influence.
If those counties come out in force to vote, Youngkin should have a very good chance at winning. But it will also take the support of independent voters and even a few Democrats. In recent days, we have learned about former Democrat voters who have voted early for Youngkin.
The reason they abandoned the left's ship? It's pretty obvious. Democrats both in VA and the federal government have hammered Americans with concerning policies. Voters, and especially parents, have expressed how tired they are of top-down control restrictions from Democrats and are voting to send a message to the left.
That is largely why a newcomer like Youngkin is doing so well. But all will be decided on Election Day. Will Virginia voters take back their state from the swamp? We'll find out soon.
Key Takeaways:
Republican VA candidate, Glenn Youngkin, is leading in the close race.
Donald Trump is urging his supporters to get out and vote.
The 45th president will also host a tele-rally on the night before the election.
Source: Breitbart, Just the News